Music plays an important role in our lives. It raises our mood, makes us excited, relaxed, and calm. It also provides us with a way to express our feelings and emotions. Many of us consider it an approach of getting away from grief, worries, and pain.
That being said, it is something more than entertainment. In addition, Canadian people love listening to music. This is the reason why Canada has the world's sixth largest music industry, as https://casinovalley.ca reports. The history of music in Canada is very diverse. Native people, British, Irish, as well as the French, have significantly contributed to the Canadian music traditions and legacy. In this article, we will talk about the most popular music in Canada.
The development of music infrastructures such as chamber halls, church halls, academics, conservatories, record companies, performing arts institutes, television music channels, and radio stations have produced pioneering music, songs, and melodies that are loved by people all over the world. Canadian music artists are very talented who have contributed prodigiously to create popular music genres and subgenres. For instance, rock music, which include punk rock, hard rock, folk rock, country rock, progressive rock, pop rock, and alternative rock.
Although the United States is considered a musical hub in the world, it is worth mentioning that Canadian artists are not behind in this race. "Old Guard" Canadian musicians like Neil Young and Celine Dion have passed the musical torch to superstars of the new generation such as Justin Bieber and Drake. Likewise, radio and albums, which are some of the classic musical mediums have revolutionized into new technologies such as digital music and streaming or downloads. Despite the medium and artists, music remains a significant part of the culture in Canada.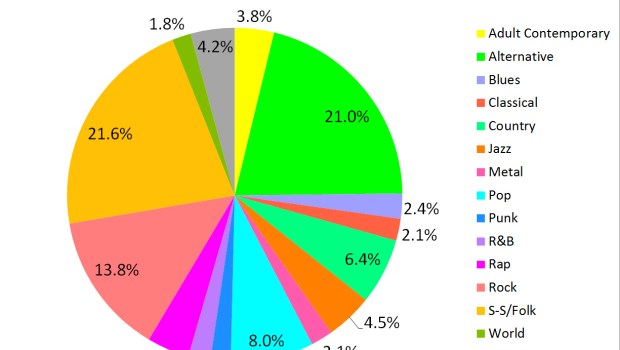 Basing on a recent stats of music releases in the country, we can say that the most popular music genre in Canada is Alternative rock. It is a clear winner among all the music genres in Canada. A nationwide survey concluded that 21.6% of people love listening to Alternative rock music. Singer-Songwriter or Folk music is listened by 21.0% Canadians. Similarly, pop music (8.0%), Rock (13.8%), Rap (4.1%), Country (6.4%), Blues (2.8%), Adult contemporary (3.8%), World (1.8%), and other music or songs (4.2%). Among the most popular artists and bands are Avril Lavigne, Nickelback, Alanis Morissette, Arcade Fire, and Bryan Adams. Moreover, Canadians admire playing music on Keyboard, recorder, piano, and electric guitar.